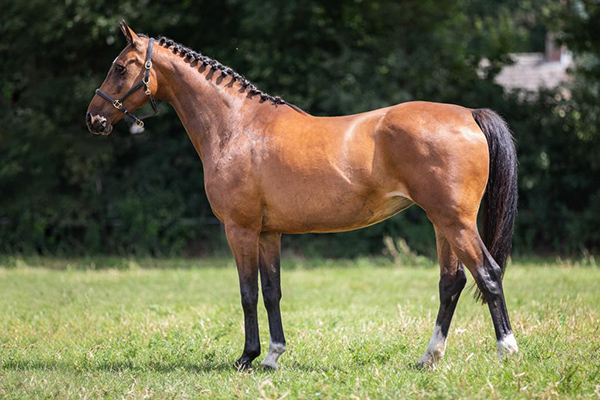 Full sister of SFN ZENITH (World Champion and 1.60 jumper)
PRODUCTION
Dascha is in foal to EMERALD for 2022 – this embryo is FOR SALE
ORIGINS
Sire:
Namelus R ranks in the top 100 sires. He has produced offspring such as TRIPPLE X – 2012 Olympic Gold medallist (Ben Maher), NINTENDER (Top price PSI Auction), H&M CHRISTIAN K (1.60 jumper), U B ONE (1.60 jumper – Robert Whitaker).
First mother:
Sascha has produced multiple international offspring including SFN ZENITH (1.60), Allegro (1.40 jumper), Fortnight (licensed stallion and 1.40 jumper)
Second mother:
Novelle only has 2 offspring, one being Sascha, the other Rockefeller is a 1.50 jumper.
Third mother:
 Holiday is the sister of Zidante (winner of Le Lion d'Angers – World Young horse eventing championships, and winner at CCI4*)
NAMELUS R
CONCORDE
VOLTAIRE
FLYER
EAMELUSIENA
JOOST
AMELUSIENA
SASCHA
FUEGO DU PRELET
JALISCO B
TORNADE DU PRELET
NOVELLE
BURGGRAAF
HOLIDAY