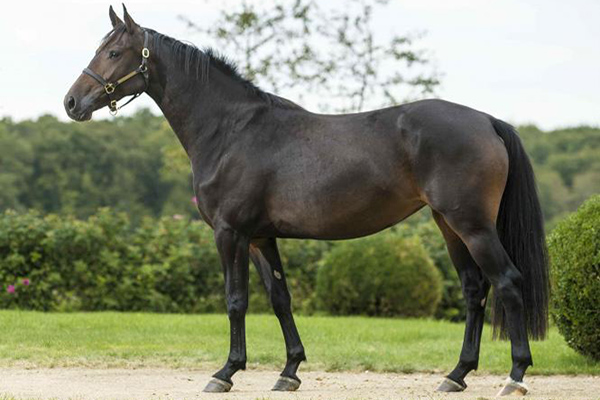 Uterine sister of the famous BELLA DONNA, ranked in many international events under the saddle of Meredith Michaels Beerbaum
PERFORMANCE
ISO 119 at 4 years old, after a season competing in 4 year old classes with Giles Botton. Double clear at the French YH qualifiers at Lion d'Angers. Competed at the final in Fontainbleau.
ORIGINS
Father: CASCAVELLE NT
CASCAVELLE NT is a son of the famous stallion CASSINI I who turned at the highest level under the saddle of Franke Sloothaak. He has a large number of approved sons and his descendants shine on the competition grounds. CASCAVELLE NT had many victories in class S before devoting himself to breeding.
Mother: ORLIS I
ORLIS is a daughter of the Holsteiner stallion CALIDO I (CANTUS). Thanks to the earnings of his offspring of more than 2.78 million euros during his entire life, CALIDO I can be considered one of the best Holstein stallions.
Exceptional examples:
COUPE DE CŒUR, (three times German Champion with Rene Tebbel and Ludger Beerbaum and, in 2011, the stallion with the most success in breeding at the European Championships with Henrik von Eckermann)
NOBLESSE M, also winner of the Grand Prix in 2007 in Helsinki
LA CORONIA under the saddle of Pius Schwizer
EUROCOMMERCE ACAPULCO who was Vice-Champion of the Netherlands with Gerco Schröder.
ORLIS I, which also had a short sporting career under the name CHARISMATICA, also produced the famous mare BELLA DONNA. BELLA DONNA was for several years one of the best mares in the world by chaining successes under the saddle of Meredith Michels-Beerbaum.
Second mother: VERONA I
VERONA I has also produced three approved stallions:
ATHLETICO
CHARISMA I
CHARISMA II
She is the sister of the Accord I, II and III stallions.
Third mother: GERLIS
A uterine sister of GERLIS, by COR DE LA BRYERE, produced the famous stallion BURGRAAF, father of several horses that have distinguished themselves at a high level.
PRODUCTION
HIMALAYA DE HUS (Kannan) 2017
ILLEGAL DE HUS (Querlybet Hero) 2018
CUBA LIBRE DE HUS Z (Casago) 2019
VENDEE DE HUS Z (Verdi) 2019
BAYONNE TSC Z (Balou de Reventon) 2021 – SOLD TO FRANCE
CON COSTA TSC Z (Conthargos) 2021 – sold for 18000€ at the Z Quality Auction
KLOCHETTE TSC Z (Kannan) 2021 – SOLD TO SPAIN
KANDAHAR TSC Z (Kannan) 14/4/2022 – FOR SALE
CRISTELLA DE MONTERO TSC Z - SOLD TO SPAIN
Filly by Cornet Obolensky – 2022 – SOLD TO FRANCE
COMME CRESUS 15/4/2022 – FOR SALE
CASSCAVELLE NT
CASSINI I
CAPITOL I
WISMA
FINJA IV
CARETINO
MURFINI
ORLIS I
CALIDO I
CANTUS
BARONESS HOLST
VERONA I
CALYPSO II
GERLIS