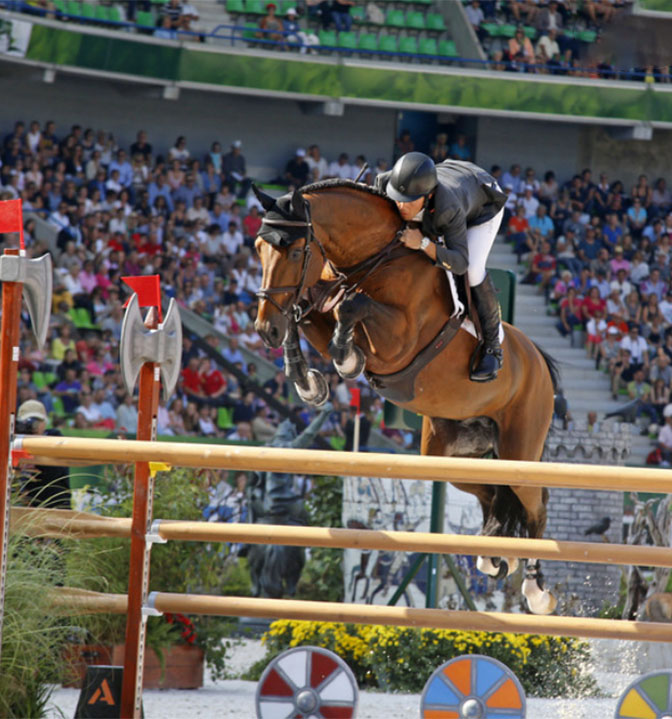 Performances
Action Breaker was the 4 year-old Belgian Champion. He took part in many CSI5* and was placed in several such as Aachen where he came 2nd, Cannes where he was 3rd, Paris where he came 4th and he was 5th in Basel, Geneva, La Coruna and Dublin. Action Breaker was also the WINNER of the Nations Cup in 2012 in Barcelona with Sergio Alvarez Moya. In 2011 he came 13th in the World Cup Final in Leipzig.
 Offspring / Produits
♦ EXPLOSIEV III, 1m60
♦ DOBRA DO PORCEYO, 1m60 & 5th CSI5* GCT Miami
♦ FIXDESIGN FUNKE VAN'T HEIKE, 1m60 & 5th CSI5* NationsCup Rome
♦ FIFTY-FIFTY 111, 1m60
♦ NLF FAVOURITE, 1m60
♦ BEBEETO, 1m60
♦ SL ELITE, 1m60

 Action Breaker was the world #69 jumping sire in 2015.  His pedigree combines the already legendary Heartbreaker (sire of Toulon, Romanov II and dam-sire of Cornet Obolensky) with Lys de Darmen, one of the most influential dam-sires in Belgium.  He is a modern stallion who transmits frame and a lot of power to weaker mares.
Action Breaker's offspring seem to be as successful as him. Having multiple offspring in 1m60 classes such as Explosiev III, NLF Favourite and Farfelue du Printemps. There are also four of his offspring in CSI5*; Dobra Do Porceyo, Fixdesign Funke Van't Heike, Fifty-Fifty and SL Elite.
Action Breaker surprises with great suppleness and reactivity. His well-balanced canter, his outstanding jumping technique and his exceptional pedigree make Action Breaker an obvious choice for showjumping breeders.
Despite his impressive presence Action Breaker is a very easy stallion to handle with a kind temperament.

 Action Breaker ist nicht nur der Vollbruder zu Quasimodo vh Molendreef – Platz 70 WBFSH Springvererber – sondern war auch selbst auf Platz 69 dies Rankings vertreten 2015. Sein Stammbaum kombieniert den jetzt schon legendären Heartbreaker (Vater v. Toulon & Romanov II sowie auch MV v. Cornet Obolensky) mit Lys de Darmen, einem der einflussreichsten Mutterväter der modernen belgischen Zucht.
Action Breaker ist von grossrahmigem Körperbau und bringt kraftvolle, harmonische Nachzucht. Trotz seiner Grösse überrascht er mit ausgezeichneter Wendigkeit und Dynamik im Parcours, seine Fohlen erben den herrausragenden Stil, die impulsive Galoppade. Dies und nicht zuletzt auch die interessante Abstammung machen Action Breaker zu einem absolutem Muss in jedemSpringzuchtprogramm.