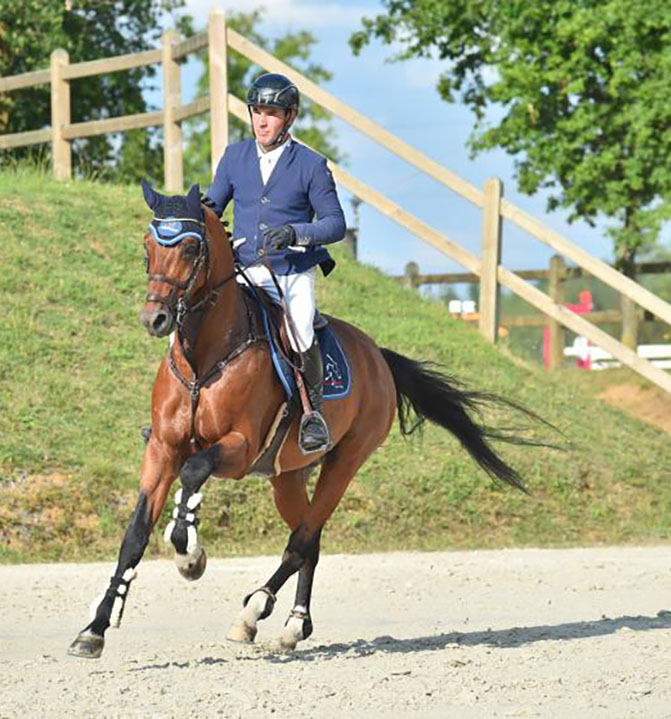 Performances

 Thomas Leveque started this stallion at 4 yo and led him to a double victory in the regional 5 yo Championship. At 6 yo, Arkino had a great season with Audrey Paris with a lot of clear rounds. 2015 saw him with Fabrice Paris reaching first places in CSIYH1* classes between 1m25 and 1m40. Arkino continues his sport career ridden by Michael Whitaker, and is taking a lot of double clears and wins in 1.45m classes.

 Thamas Leveque started den Hengst vierjährig und bringt ihn bis zum Doppelsieg im Regionalchampionat der 5-jährigen. Als sechsjähriger macht Arkino mit Audrey Paris eine gute Saison mit zahlreichen Nullrunden. 2015 kommt die siegreiche Wende mit Fabrice Paris mit erstplazierungen in CSIYH* Prüfungen zwischen 1m25 und 1m40. Seit 2015 ist Michael Whitaker im Sattel mit Arkino unterwegs, das Paar überzeugte mit mehrfachen Siegen und Null-Fehler-Runden in 1m45 Turnieren.

 Arkino is beautifully bred: His sire Arko III, ridden by Nick Skelton, was the best jumping horse for three years consecutive and produced Argento (John Whitaker) and Aristio (Nick Skelton). Arkino's mother is a full sister to the international 3* performer Carlsberg. This Holstein motherline 18a2 produced over 50 approved stallions like Chambertin (sire of Chacco Blue) and Chamonix (damsire of Quintero).
Arkino's offspring are still very young but he seems to produce compact horses with an outstanding strong back. We expect him to transmit his respect and the fantastic scope which lured Michael Whitaker whilst purchasing the stallion. Arkino appears to be very chic and his talent and pedigree add value to a majority of mares.
Arkino is a gorgeous looking stallion with the personality to match. He very much enjoys his jumping career and being at the shows. He is very popular with all the grooms.

 Arkino ist wohlgeboren: Vater Arko III unter Nick Skelton war drei Jahre lang bestes Sportpferd weltweit und hat u. A. die Hengste Argento(John Whitaker) und Aristio (Nick Skelton) gebracht. Arkinos Mutter hingegen ist eine Vollschwester zum CSI3*-Hengst Carlsberg. Dieser Holsteiner Stamm 18a2 ist die Wiege von über 50 gekörten Hengsten, darunter Chambertin (Vater v. Chacco Blue) und Chamonix (Muttervater v. Quintero).
Arkinos Nachwuchs ist noch sehr jung, er macht kompakte Fohlen mit einer ausgezeichnet starken Rückenlinie. Er wird offensichtlich den Respekt und das außergewöhnliche Springvermögen weitervererben, dass Michael Whitaker imponierte beim Kauf des Hengstes. Arkino ist ein eleganter Sportler dessen Talent und Stammbaum eine Bereicherung für jede Stute ist.
Arkino Z
Zangersheide, 2008, 170 cm
Approved for: Z, AES

Breeding fee: 250€ per dose (8 straws) + VAT & shipping
Arko III
Argentinus
Argentan I
Dorle
Unika
Beach Boy
Unique
Thalia
Caretino
Caletto II
Isidor
Halina IV
Landgraf I
Adelige