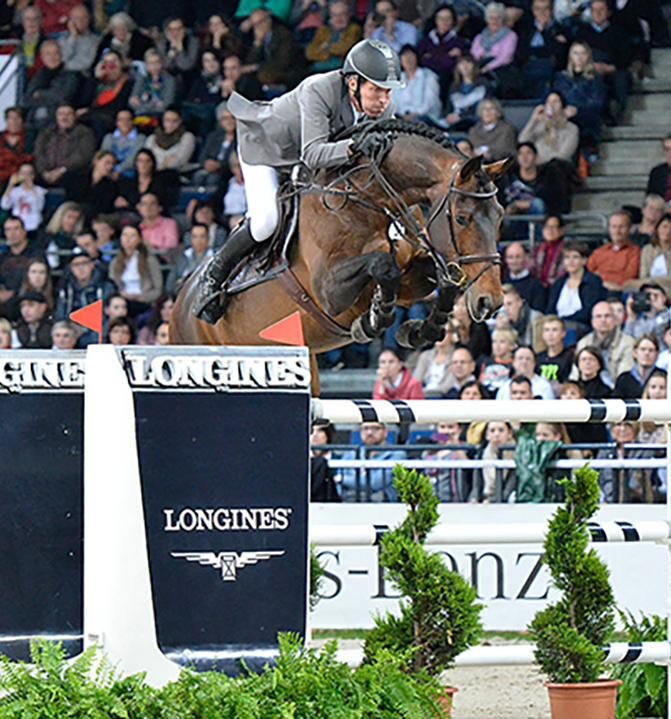 Performances
WINNER CSI5*: Donetsk, Ebreichsdorf, Lausanne, Basel, Valkenswaard, Rio De Janeiro, Zurich, Paris, Aachen (Ludger Beerbaum)
2nd CSI5*: Rome, Geneva, Lepizig, Hamburg, Olso, Aachen, Paris, Verona, Stutgartt, Bordeaux (Ludger Beerbaum)
3rd CSI5*: Ebreichesdorf, Hamburg, Valkenswaard, Stutgartt, Hong Kong, Rotterdam, Estoril, Verona, Aachen, Goteborg (Ludger Beerbaum)

Chaman is a son of the great Baloubet du Rouet, a stallion who proved himself in the late nineties and throughout the two thousand's. He won the World Cup finals multiple times, as well as Olympic medals with the Brazilian national team. Chaman is also proving his quality having won many World Grand Prix's with his rider Ludger Beerbaum. Chaman, who is three quarters French, has his maternal origins (I Love you x Lucky Boy tb x Le Faquin tb) who bring him a lot of blood and modernity.
In 2010 Chaman won the six bars in Geneva and was second at the Oslo Grand Prix. In 2013 he was ranked second global showjumper, and worldwide number one show jumping stallion. He has also been nominated twice best KWPN horse in the world. All this whilst with his rider, Ludger Beerbaum. Chaman has presented several show winners and desired auction candidates in his first foal year. One son won the Holstein Foal Championships in 2016 in Pfullendorf. The older offspring show outstanding show-jumping competitions, as Jerico W, who has won the Swedish Free-Jumping Championships.
With his massive canter stride, his great flexibility and speed at which he performs, Chaman will suit smaller, compact mares with a lot of blood. His eldest offspring turning 4 this year we should start to see them in the show ring shortly.
Chaman
KWPN, 1999, 173 cm
Approved for: Holstein, Hanover, OS, Mecklenburg, Rhineland, Westphalia and all Southern German Verbands, Italy.
Conditions: 1500€ + VAT and shipping, live foal guarantee included.
Baloubet de Rouet

Galoubet A

Almé Z

Viti TF
Mesange de Rouet

Starter

Badine
Jadied

I love you

Almé Z

Elyria
Poline

Lucky Boy xx

Kodine v. Le Faquin xx