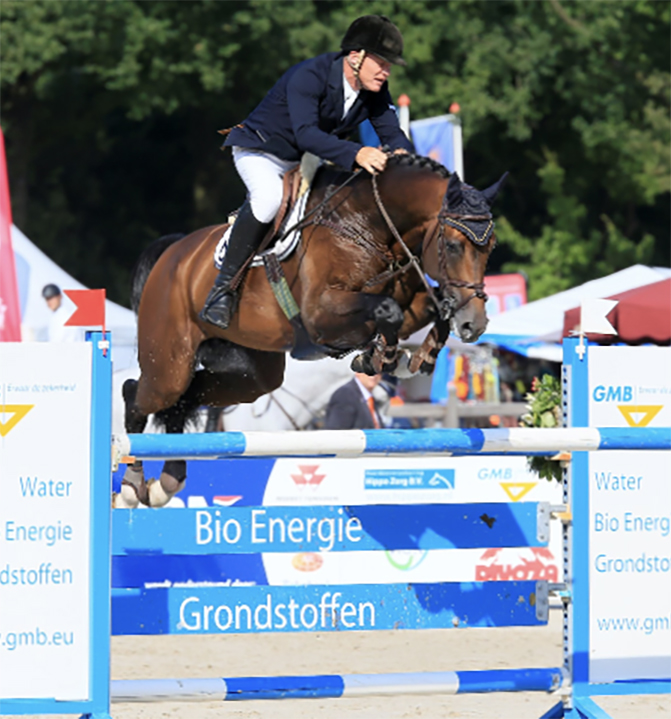 Performances

WINNER 1m40 classes Netherlands, Spain, Portugal, France
Qualified World Young Horse Championships Lanakan 5 & 7 year old
3rd Dutch 5 year-old Championships, Netherlands
Offspring / Produits
(Eldest offspring turned 9 in 2018)
FORTUNA, 1m50
JARKO VAN HET METTENHOF, 1m40
FELICITY and ELLO S qualified respectively for French Championships 5 year-old dressage and eventing

As a son of legend Contender and a dam by Sandro. Chello combines Europe's jumping elite in his pedigree. His damline Holstein 318d2 is ranked # 3 worldwide with over 26 approved stallions in the last three generations among which Diarado, Corofino, Coriano and Mill Reef VDL. Damsire Sandro produced Silvio I (sire of Shutterfly), Santander and Sandro's Boy.
Chello makes commercial offspring with dream movements and inimitable style over jumps. All his foals inherit his sweet and elegant face. Chello is the perfect mix between blood and composure, he adds frame without weighing down the mares. Chello is a very good-natured stallion and is a lovely horse to handle and be around.

 Als Sohn der Vererberlegende Contender und einer Mutter von Sandro, vereint Chello Europas Elitespringer in seinem Stammbaum. Seine Mutterlinie, Holstein 318d2, ist eine der drei Besten weltweit mit über 26 gekörten Söhnen, darunter Diarado, Corofino, Coriano und Mill Reef VDL. Muttervater Sandro hat u. A. die Hengste Silvio I (Vater v. Shutterfly), Santander und Sandro's Boy gebracht. Chello macht kommerziellen Nachwuchs der mit traumhaften Gängen und unvergleichlichem Stil am Sprung überzeugt. Seine Fohlen erben den eleganten und ausdrucksstarken Kopf. Dieser Hengst ist die perfekte Mischung zwischen Blut und Gelassenheit, er bringt Rahmen und Veredelung.
Rising Stars
Chello III
Bay, Holsteiner, 2005, 171cm
Approved for : KWPN, AA,
SbS, Z, AES.
breeding fee : €700 + VAT and shipping, live foal guarantee included.
Stationed at:Tomlinson Equine, Westonbirt, UK
Owner: The Stallion Company
Contender
Calypso
Cor de la Bryere
Gofine
Ramiro
Cita
Gracia III
Sandro
Sacramento Song
Duerte
Werona
Cor de la Bryere
Golda