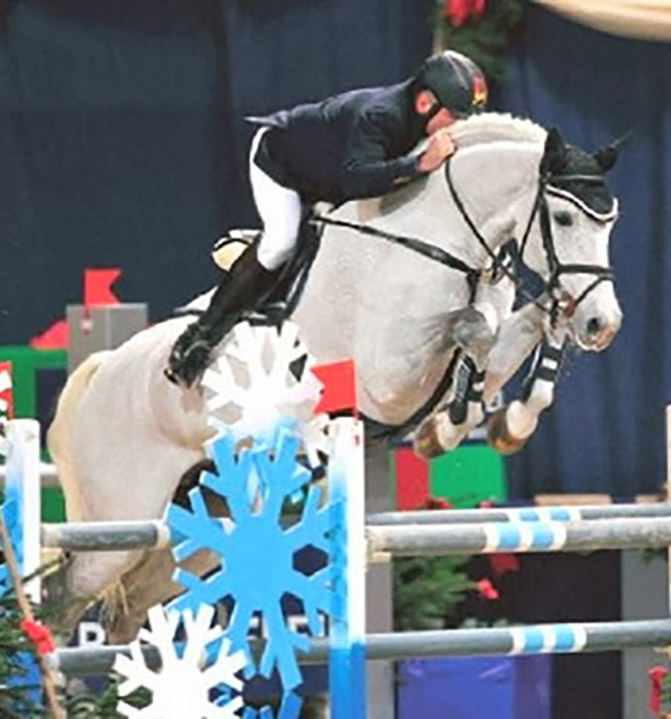 Performances

SILVER MEDAL, Asian Games 2006 (Song Sang-Wuk)
BRONZE MEDAL, Sires of the World-Jumping, Lanaken 2008 (Alois Pollmann-Schweckhorst)
12th CSI5*-W London (A. Pollmann – Schweckhorst)
4th CSI4* Sprehe Gold Cup Munich (A.Pollmann – Schweckhorst)
Participation CSI5* in Goteborg & Arezzon (A.Pollmann – Schweckhorst)
Participation CSI4* in Kiel, Braunschweig, Verona & Amsterdam
Offspring / Produits
CLINTON's STAR, sold at PSI Auction 2008 for 250 000€
BUBUMARA, 1m55
CAILLOU, 1m60
CLINTGOLD, 1m50
ADMIRAL, 1m50
ZAFERAH, 1m50
CLINTINA, 1m50
CARISMA VON HARY, 1m50
CARLCHEN, CCI3*

 Clinton II is sired by one of Holstein's most successful sires, Carolus I. His mother Waage also produced his full brother Clinton I and his full-sister Hirtin (alias Chica Bay), dam of "Sire of the World" champion Levisto Z (Judy-Ann Melchior). This Holstein motherline 4965 revealed also international talents like Zandor Z, Poor Boy, Padua and Holstein's 2008 approval champion Cantoblanco.
Due to his long and victorious sport career with Alois Pollmann-Schweckhorst and then Sang-Wuk Song, Clinton's breeding career started only in 2007 which means that his offspring are rare and still young. He passes to his offspring an outstanding canter, a chic model and his famous scope which Paul Schockemöhle claimed to be "unlimited".
Clinton is a tall great natured stallion loved by all at the stud. In spite of his size, Clinton gives a surprising amount of blood and elegance to his foals. He should be used on mares who lack frame, canter and scope.

 Clinton II ist ein Sohn des leistungsstarken Holsteinervererbers Carolus I. Seine Mutter, Waage I, hat nicht nur die beiden Clinton Brüder geboren, sondern auch Hirtin (alias Chica Bay). Letztere ist Mutter des international bekannten Levisto Z, "Sires of the World" Champion 2009 unter Judy-Ann Melchior. Andere internationale Stars sind dem Holsteiner Stamm 4965 entsprungen: Zandor Z, Poor Boy, Padua und Cantoblanco, Holsteiner Körungssieger 2008. Durch seine lange Sportkarriere, fängt Clinton's Zuchtlaufbahn erst 2007 an und daher sind seine Nachkommen noch selten oder jung. Sie fallen auf durch ihre Galoppade, sehr viel Chic und gute Sprungtechnik. Vor allem erben sie sein, laut Paul Schockemöhle, "unbegrenztes Sprungvermögen". Deckbedingungen: 900€ + Mwst. und Versand, Lebendfohlengarantie inklusive.
Clinton II
Holsteiner, 1994, 171 cm
Approved for: SF, Old, Hann, KWPN, Rheinl, Bayern, BaWü, Holst, AES, Z
breeding fee : €900 + VAT and shipping, live foal guarantee included. Frozen semen only.
Owner: The Stallion Company
Carolus I
Capitol I
Capitano
Folia
Lacq
Roman
Cordelia
Waage I
Calypso II
Cor de la Bryere
Tabelle
Lorettchen
Royal Wash
Bandonia