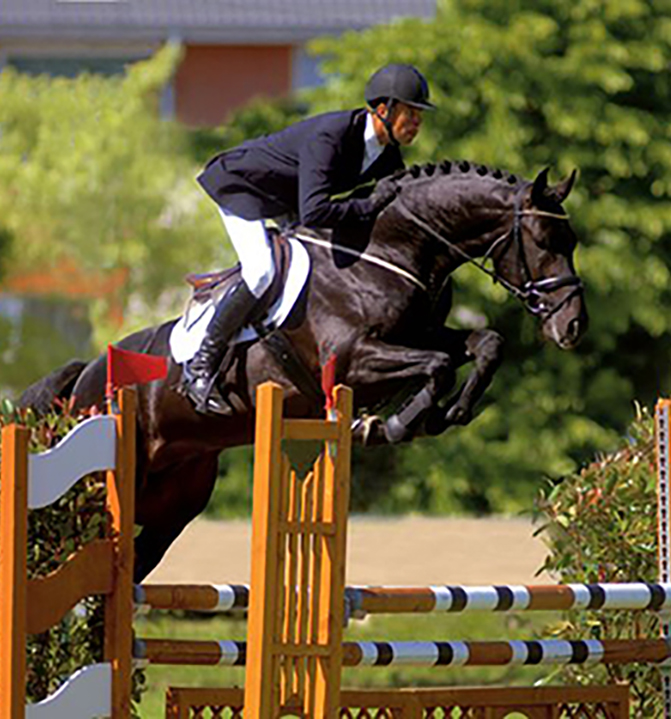 Performances

Reserve Champion, Holsteiner Korung (Approval) 2002
Stallion Testing (HLP): 7,55/10 (Jump: 8,25, Dr: 6.63)
Ranking Jumping Klasse M (1m30 – 1m40) (Philipp Schulze)
Offspring / Produits
CAPTAIN SPARROW 5, 1m45 & WINNER Bundeschampionat Jumping 5 year-old & WINNER CSI3* Munich (Michael Jung)
COLOUR GIRL, 1m55 WINNER at CSI4* Amsterdam
WAT NU, 1m50
CORMINA, 1m55 & Holsteiner Studbook Champion Mare
CHAPEAU CLAQUE, 1m50
CARLOTTA, 1m50
DU UND ICH, 1m50
CHUPAMINT, TOP PRICE Holsteiner Stallion Auction, 100 000€
CORINTH, TOP PRICE Holsteiner Stallion Auction, 95 000€
CLOUD NINE 4, CIC3*

 As reserve champion at 2004 Holsteiner approvals, Cormint was particularly noted for his outstanding trot, a modern sport type and even more for his scope. He combines Holstein's elite in his pedigree such as Calido I whose personal and offspring (Ex: Coupe de Coeur) performances have stamped both breed and Showjumping forever. With the Olympian Carthago and his mother Ilona being full sister to Rodrigo Pessoa's Carlot, Cormint's talent appears as a well-bred destiny. Cormint appears as world #19 jumping sire for his age group.
Cormint was injured after his stallion testing at 3 years old and has had a long career as a sire since. Among his offspring are auction bestsellers (Chupamint) and Bundeschampion 5-year-old (Captain Sparrow). He modernizes mares with his style and conformation, adds blood and improves the scope. Cormint also passes on his incredible good looks. Despite of his injury Cormint still enjoys light riding at home, and has proved himself to be one of the favorite rides at the yard.

 Als Reservesieger der Holsteinerkörung 2004 fiel Cormint besonders durch seinen überdurchschnittlichen Trab auf sowie guter Sprungtechnik und grenzenlosem Vermögen. Er vereint in seinem Stammbaum die Holsteiner Elite. Einserseits Calido I, durch persönliche Karriere Nachzucht (z.B. Coupe de Coeur) wohlbekannt, und andererseits Carthago als Muttervater, der selbst bei den Olympischen Spielen qualifiziert war. Dazu ist Cormints Mutter Ilona eine Vollschwester zu Carlot (Rodrigo Pessoa). Seit einer Verletzung kurz nach seiner HLP, hat Cormint seitdem ein ausgefülltes Deckhengstdasein mit gutem Erfolg. Zu seinem Nachwuchs zählen Auktionsbestpreise (Chupamint) sowie 5-jährige Bundeschampions (Captain Sparrow). Er modernisiert die Stuten mit Chic und gutem Körperbau und verbessert die Technik am Sprung merklich. Deckbedingungen: 800€ + Mwst. und Versand, Lebendfohlengarantie inklusive.
Cormint
Holsteiner, 2002, 169 cm
Approved for: Holst, Z, AES
breeding fee : €800 + VAT and shipping, live foal guarantee included.
Stationed at: Drumhowan Stud, Castleblayney, Co Monaghan.
Owner: The Stallion Company
Calido I
Cantus
Caletto I
Monoline
Baroness VII
Coriander
Kollet
Ilona XV
Carthago
Capitol I
Perra
Silvia
Lord
Mamba