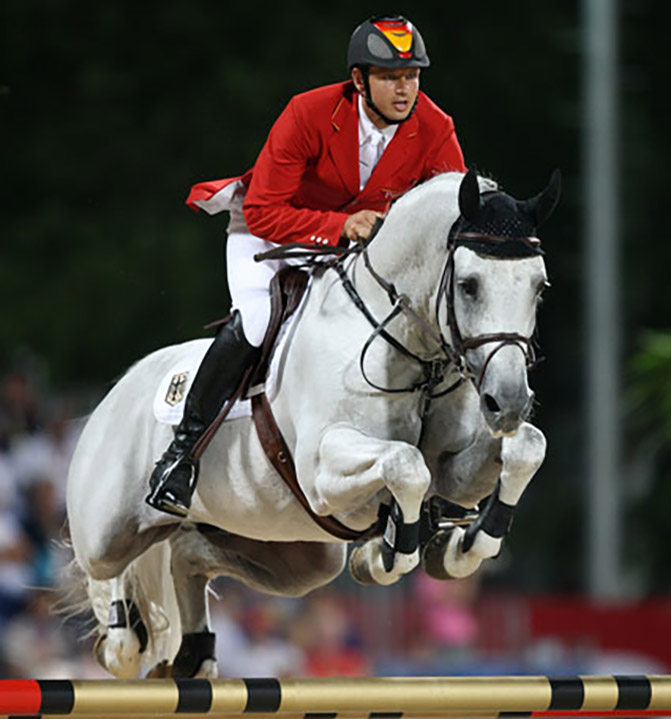 Cornet Obolensky needs no introduction; he has dominated the sport and breeding world for over a decade. Phenomenally successful as both a sport and breeding stallion, he is still as popular for breeding today as he was at the height of his international career. His good looks, temperament and outstanding technique and scope, and that of his offspring, have seen him counted amongst the best stallions in the world for heritability and reliability. Today, his children and grand-children fly the Cornet Obolensky flag at the top level all over the globe. In 2012, the BWP awarded him the title "Ambassador", and he is currently fifth in the WBFSH Sire Rankings for 2016. 
 His most successful son, Cornet D'Amour, was formerly the top horse in the world on the FEI rankings. Winner of the 2014 World Cup Final, double silver medallist at the 2015 European Championships, fourth individually in 2013, sixth at the World Equestrian Games; the list of Cornet D'Amour's international successes is long. His other offspring include Cornado NRW, Cristallo I, Conte Bellini, Cornet's Cristallo, Cocoshynsky, Colestus and Cornetto King - more than 60 Cornet Obolensky offspring are jumping at grand prix and he has more than 80 licensed sons, while 194 of them have won or been placed in advanced level competitions. His offspring's lifetime earnings are over €1.8million. At the 2016 World Cup Final, the winner Corbinian, second placed Cornado NRW and equal-third placed Cornet D'Amour were all by Cornet Obolensky - proof that this great grey stallion is incomparable. 
Cornet Obolensky
1 straw 750€
3 straws 2100€
5 straws 3250€
10 straws 6000€
Available frozen semen only, free for ICSI, sold by straw.
Colour: Grey
Height: 1.71m
Year of birth: 1999
Licensed for: SF, SWB, Holst, CDE, Bayern, Old, SI, Hann, BWP, Rheinl, Westf., WSI, KWPN
Clinton

Corrado I
Cor de la Bruyère
Soliel
Urte I
Masseto
Ohra
Rabanna van Costersveld
Heartbreaker
Nimmerdor
Baccarole
Holivea von Costerveld
Randel Z
Gudula