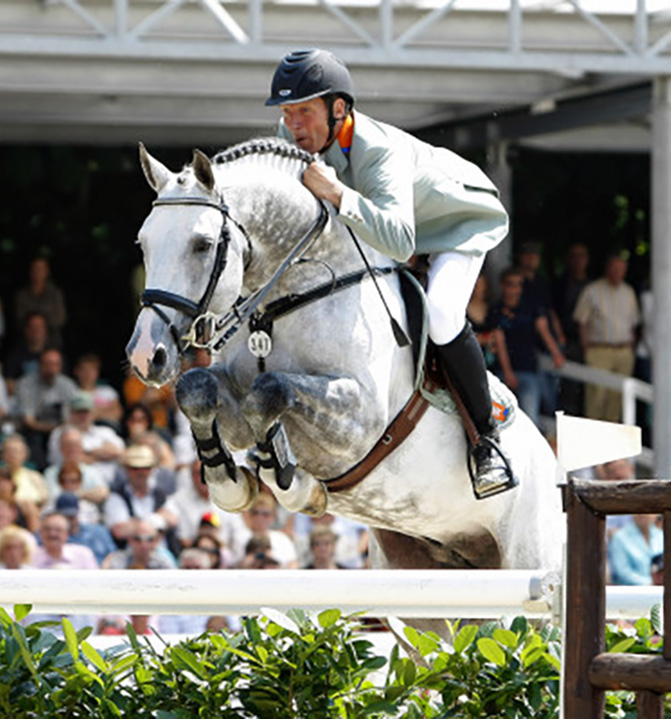 Performances

3rd CSI5* Estoril 2011 (Ludger Beerbaum)
3rd CSI5* Doha 2009 (Ludger Beerbaum)
4th CSI5* Paris 2009 (Ludger Beerbaum)
6th CSI5* Madrid 2013 (Ludger Beerbaum)
Participated CSI5*: Verona, Lyon, Oslo, Helsinki, Brussels, Bordeaux, Stuttgart, Rio, Geneva, Basel, Madrid, Chantilly, Zurich, Monte Carlo, …
Offspring / Produits
COMMANCHE 28, 1.60m
COUPE DU ROUET, 1.60m
CARAVELLI, 1.60m
COUPIS, 1.60m
AS DE COEUR, 1.55m
CHESTER 246, 1.55m
QUEENTINA, 1.50m
COUPE DE ALB, 1.50m

His sire Calido I, a son of the famous Cantus, is one of the main advertisements for the Holstein breed.The dam Adele also produced the licensed stallion Russel ridden by Nick Skelton for Great Britain and six further advanced (S) level show jumpers, with the underlying inheritance security of Coupe de Coeur.
Coupe de Coeur was European Championship fifth placed, three-times German Champion, 125 placings in World Cups, Nation Cups and Grand Prix, 16 of them have been first places and almost 550.000€ prize money – Coupe de Coeur belongs to the illustrious circle of the most successful show jumper stallions in the world and he passes his outstanding talents on. Eleven of his sons have been licensed, including licensing winners and stallion performance test winners, as the Stakkato-award winner Complete. He has produced many international successful horses like Coester, Coupe de Alb and Coupe D'Or.
Among his numerous premium daughters, Queentina, the Oldenburg-International reserve champion mare and advanced level winner, stands far out. The offspring of Coupe de Coeur placed at top shows around the world, led by Comanche under Meredith Michaels-Beerbaum in Wellington/USA, Helsinki/FIN and Calgary/CAN, as well as Club de Coeur, As de Coeur, Coupis, Coupe de Alb and Casa Ciara.
Coupe de Coeur will suit mares who lack in frame, his balance and great nature will be appreciated by breeders.
Coupe is a big strong boy, around the yard lots of showing off but under it all he is a sweet natured stallion who loves attention and his treats.

 Coupe de Cœur (alias Calidos) est fils de Calido, grand étalon ayant produit plus d'une soixantaine de gagnants internationaux. Il est fils de Cantus, père de Calvaro V, une légende du sport mondial avec W. Melliger. La mère de Coupe de Coeur, Adèle, fruit du croisement Landgraf x Furioso, fut une poulinière d'exception en engendrant Russel, septième des J.O. de Pékin, 9é des JEM d'Aix la Chapelle, Corofina gagnante en 160 avec L. Kraut et les gagnants California, Chairman. Avec Ludger Beerbaum, il sera 6é du championnat du monde à Las Vegas en 2009 et à nouveau Champion d'Allemagne puis vainqueur du Grand Prix de Dortmund, 3é de ceux de Munich, de Bordeaux. En 2011 avec H. Von Eckermann, il est 5è du Championnat d'Europe et de la Finale du GCT à Doha. Dans le sport, Coupe se taille d'emblée une belle réputation avec ses premières générations : Faciles et puissants, les plus âgés ont 11 ans en 2017 et réussissent avec les pro et les amateurs. Il conviendra à merveille pour les juments à qui il faut apporter du cadre et de la couverture. La stabilité de son caractère, l'amplitude de sa locomotion et son équilibre seront précieux pour bien des juments. Très fertile, vraiment très fertile, il creuse là aussi la différence avec ses concurrents.
Coupe de Couer
Holsteiner - Grey - 1997 - 170 cms
Approved for Hanover, Holstein, KWPN
breeding fee : €1000 + VAT and shipping, live foal guarantee included.
Calido I
Cantus
Caletto I
Monoline
Baroness
Coriander
Kollet
Adele
Lincoln
Landgraf I
Zita W
Colin
Urioso
Wyk