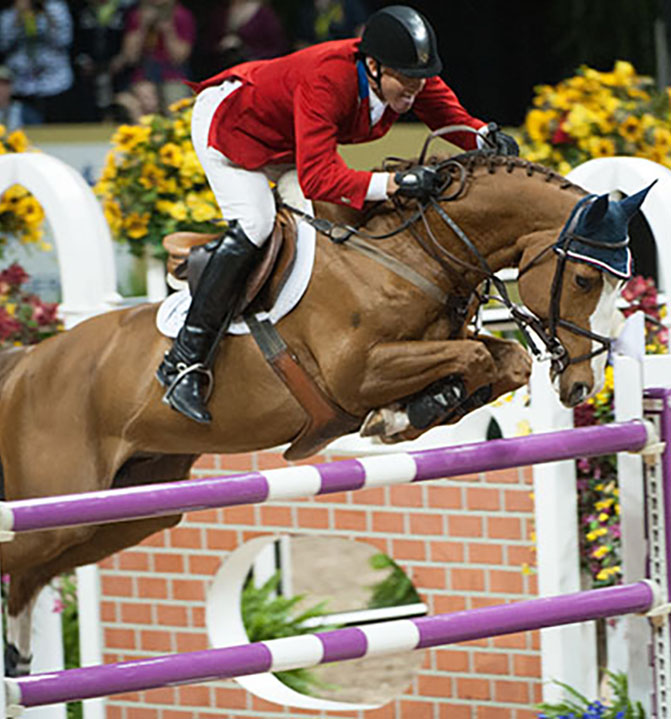 Performances
8th Olympic Games London 2012 (Richard Fellers)
WINNER FEI World Cup Finals s-Hertogenbosch 2012 (Richard Fellers)
Participated in 8 FEI World Cup Finals between 2009 – 2016 (Richard Fellers)
Offspring
CUSHIONS, 1m60, 5 year-old Irish champion
CRUICERATH FLEXIANNA, 1m45
HYBERNIA, 1m40

Flexible is a son of Cruising, one of the great stallions of the year 2000. His mother, Flex is an international winner with Edward Doyle and has Thoroughbred bloodlines. She produced two other great international winners, Flexing who was third at the European junior championships and Samgemjee, who won CSI** in 2013.
Having Irish origins, Flexible has been competing in the USA for the last 10 years, at the highest level with his rider Rich Feller. He took part in six World Cup Finals, and won one in 2012, was second in 2008 and … at 19 years old he was seventh in the 2015 World Cup finals! He was sixth at the London Olympic Games and won the Calgary Grand Prix three times. A small horse with big abilities.
Flexible has only a few offspring at the moment, including Cushions who is a GP160 winner in the USA and Cruicerath Flexiana who was the 2015 5 year old's Irish champion.
Small in height with a big heart, with lots of physical blood and energy, Flexible is as easy to use as his father was. He is the very image of the modern horse. He is a machine for tight turns and big jumps with unlimited generosity. He is a great way of bringing energy, bravery and the good health of Thoroughbreds without compromising on jumping capacity or quality. He is particularly outstanding by his longevity, having retired at 19 after being placed in a world cup finale that same year. He also boasts outstanding fertility even in frozen.

 Flexible, fils de Cruising, qui fut un des grands des années 2000. Sa mère Flex gagnante internationale avec E. Doyle est issue de Pur-Sang. Elle a donné deux autres gagnants en CSI: Flexing 13é du Championnat d'Europe Junior et Samgemjee gagnant en GP CSI** en 2013. Irlandais d'origine, il concoure aux USA depuis 10 ans au Top niveau avec Richard Feller. Il a participé à six finales Coupe du Monde et en est vainqueur en 2012, deuxième en 2008 et… septième à 19 ans en 2015. Il est sixième des J.O. de Londres et remporte trois fois le GP de Calgary. Petit cheval / Gros calibre. De Flexible, ayant peu de produits à ce jour, on connait Cushions gagnant en GP150 aux USA et Cruicerath Flexiana Championne des 5 ans Irlandais en 2015. Petit par la taille et grand par le cœur, très près du sang, énergique, très facile d'utilisation comme l'était son père, Flexible est l'image même du cheval moderne. Une machine à enchaîner les parcours selon les trajectoires les plus serrés avec une générosité sans limites. Formidable moyen d'apporter l'énergie, le courage, la santé du Pur-Sang sans détériorer la qualité de saut. Il se démarque par sa longévité, ayant pris sa retraite a 19 ans, après
Flexible
1996 – Alezan – 162cms – Irish Sports Horse
Conditions: 600€ for 4 straws, sold without terms.
Cruising
Sea Crest
Knockboy
Seaspray
Mullacrew
Nordlys XX
Big Idea
Flex
Safari XX
Hopeful Venture XX
Gilamoor XX