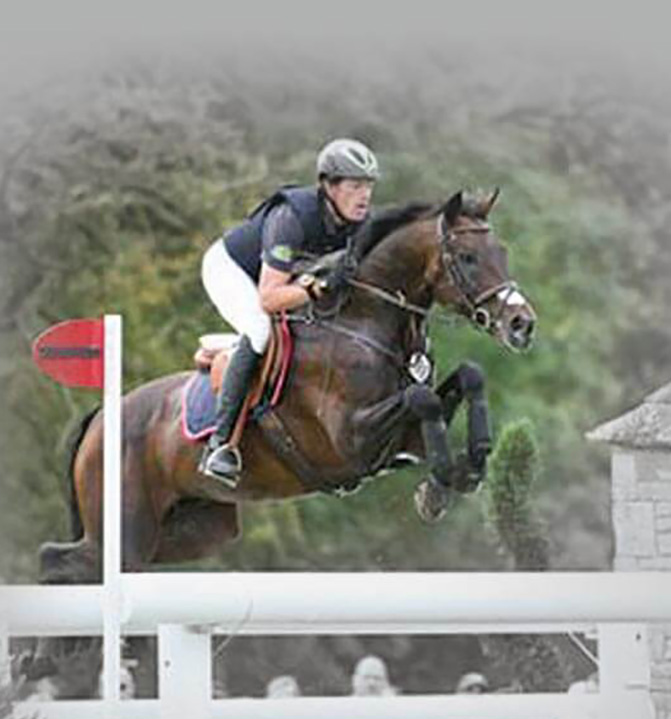 Performances

Participation 8 CIC4* Events: Burghley, Luhmuhlen, Badminton, Pau, …
4th CIC4* Pau (Kai Ruder)
WINNER German Junior Eventing Championships 2014 (Kristin Rickert)
WINNER CIC2* Sahrendorf & Copenhagen (Kai Ruder)
2nd CIC3* Luhmuhlen & Boekelo (Kai Ruder)
3rd CIC3* Malmo (Kai Ruder)
4th CIC3* Schenefeld (Kai Ruder)
5th CIC3* Marbach (Kai Ruder)
3rd Championnat de France Eventing 6 year-old (Frédéric Aronio de Romblay)
5th Championnat de France Eventing 5 year-old (Frédéric Aronio de Romblay)
Offspring / Produits
TARMAK DES CRAOUX (Cédric Bibard), Pro 4 professionnal eventing level
TEHIS DES ORMEAUX, Finalist Championnat de France Eventing 4 year-old
TROIS DE CŒUR, Finalist Championnat de France Eventing 4 year-old
VARECH DE VIE, Finalist Championnat de France Amateur Eventing 6 year-old
VITTEL D'ARGONNE, 1m20

 Leprince is sired by Yarlands Summer Song who was ranked for 10 years in the WBFSH top 10 Eventing sires and Leprince is his most successful offspring. Summer Song's sire Fleetwater Opposition is a legend in eventing pedigrees as well and has produced numerous international eventers (Opposition Buzz, Trevalgar II, Ngong Hills, and Absolute Opposition). With the Olympian Galoubet A as damsire, Leprince's pedigree easily explains his outstanding talent and achievements. Leprince finished 11th at Badminton, 8th at Burghley and 4th at Pau. His full brother Popof des Bois is successful in CIC 4* as well.
Retired in his best condition in 2014 after winning the German junior eventing championships with a 16-year-old girl, Leprince's offspring are still young and his breeding's were limited before The Stallion Company acquired him. He produces intelligent and easy horses and manages to keep size whilst passing over his stamina and scope as well as outstanding movements. Leprince will suit light blood type mares who need scope and galop.
Leprince aka Prince is a pleasure to ride out at home, and absolutely loves letting off steam in the field. Prince acts like the big man but once up close for a treat or a groom the act disappears.

 Leprince des Bois stammt väterlicherseits von Yarlands Summer Song ab, der zehn Jahre lang im Top 10 der Vielseitigkeitsvererber gelistet war, und ist sein siegreichster Nachkomme. Summer Song's Vater ist die Vielseitigkeitslegende Fleetwater Opposition, der ebenfalls unzählige internationale Buschpferde brachte (Absolute Opposition, Opposition Buzz, Trevalgar II und Ngong Hills). Wenn man dazu noch Leprince's Muttervater Galoubet A rechnet, der selbst bei den Olympischen Spielen teilnahm, versteht man, dass seine sportlichen Erfolge auf seine Abstammung zurückzuführen sind. Leprince wurde 2014 bei bester Gesundheit aus dem Sport verabschiedet nachdem er mit seiner 16-jährigen Reiterin die deutsche Vielseitgkeitsmeisterschaft der Junioren gewann. Demnach ist seine Nachzucht noch relativ jung und rar. Er macht intelligente und arbeitsfreudige Nachwuchstalente, di durch ihre Rittigkeit auffallen. Leprince vererbt ebenfalls gutes Springvermögen und Ausdauer.
Leprince Des Bois
Selle Français, 1999, 171 cm
Approved for: SF, AA, AES, Hann, BaWü, OLD
Breeding fee : €900.00 + VAT and shipping, live foal guarantee included.
Chilled semen available across Europe'
Stationed at: Tomlinson Equine Embryo Transfer, Tetbury, United Kingdom
Owner: The Stallion Company
Yarlands Summersong
Fleetwater Opposition
Muschamp Danube
Opushka
Welton Gazelle
Welton Gameful
Lisa
Escale des Bois
Quandy du Mayne
Galoubet A
Scynik
Perle des Bois
Funny Hobby
Lolita V