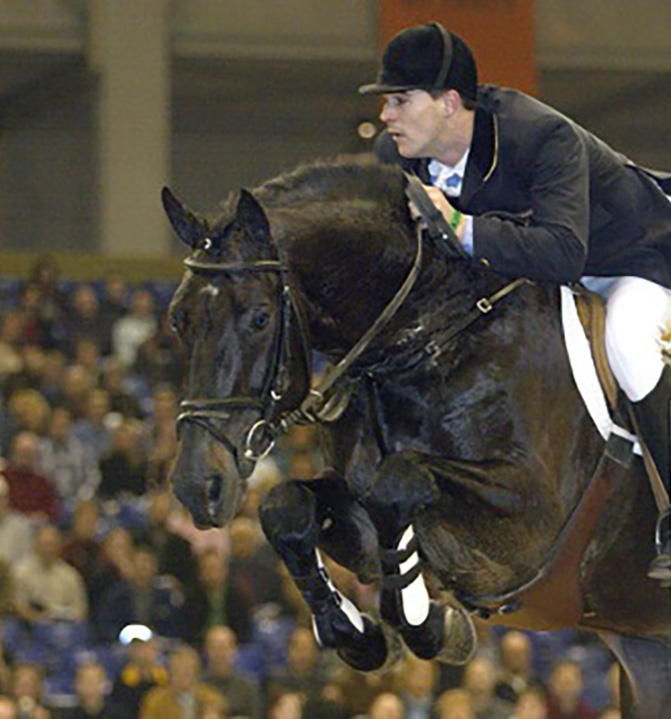 Performances

♦ Reserve Champion Dutch Stallion Approval , s'Hertogenbosch 1998
♦ Stallion test: Jumping Index: 152
♦ Participation in 1m20-1m30 classes
Offspring / Produits
♦ 62nd WBFSH 2016 Jumping Sires
♦ TRIPPLE X, GOLD MEDAL by team, Olympic Games London 2012 (Ben Maher)
♦ NINTENDER, TOP PRICE PSI Auctions 500 000€
♦ BELLINDA, 1m60
♦ CAPTAIN COOPER, 1m60
♦ CADALORA, 1m60
♦ TOLAN R, approved stallion
♦ VENTJE , 1m60
♦ CHRISTIAN K, 1m60
♦ U B ONE, 1m60 (Robert Whitaker)

 Namelus combines a modern motherline with a legendary sire: Concorde, who sadly passed away in 2014. Like him, Namelus ranks in the TOP 100 sires and has done for more than five years already. His motherline is based on Roelof's foundation stallions Joost and Abgar, and has produced good stallions like Sam R and Vegas. Reserve champion at the KWPN approval who deserved a great future in sport, Namelus unfortunately has his sports career stopped at 6 years old due to a back injury.
Since then, his offspring is ranked in every major event. Other than internationals, Namelus also produces amazing amateur horses for all three disciplines, he gives them temperament and a super back. Concorde's former owner, Kees vd Ootelaar:" Namelus will be a better sire than Concorde, as he gives a better conformation and his offspring is faster and more respectful on the jump". He's recommended for mares who need blood and scope.

 Namelus kombiniert einen modernen Stutenstamm mit einem Topvererber: Concorde, der 2014 starb. Wie dieser ist auch Namelus seit über 5 Jahren im TOP 100 der Springvererber präsent. Die Mutterlinie basiert auf Roelof's Gründerhengsten Joost und Abgar XX und brachte weitere gute Hengste wie Sam R und Vegas. Als Reservesieger der KWPN-Körung war Namelus dem großen Sport gewidmet, allerdings wurde der Traum 6-jährig wegen einer Rückenverletzung aufgegeben. Neben den internationalen Springstars bringt er qualitative Amateurpferde in den drei Disziplinen mit super Temperament und Wendigkeit. Kees vd Ootelaar, ehem. Besitzer von Concorde: "Namelus wird ein besserer Vererber denn er hat den besseren Körperbau und wendigere Nachzucht mit mehr Respekt am Sprung".
Namelus R
KWPN, 1995, 169 cm
Approved for: SF, Holst, Hann,
Old, BWP, KWPN, ISH, Z
Breeding fee: 250€ per straw +VAT and shipping (sold without terms).
Stationed at: The Stallion Company France
Courdaulin
53700 Averton
Owner: The Stallion Company
Concorde
Voltaire
Furioso II
Gogo Möve
Flyer
Marco Polo
Klaske
Eamelusiena
Joost
Console
Ulana
Amelusiena
Abgar II

Melusiena