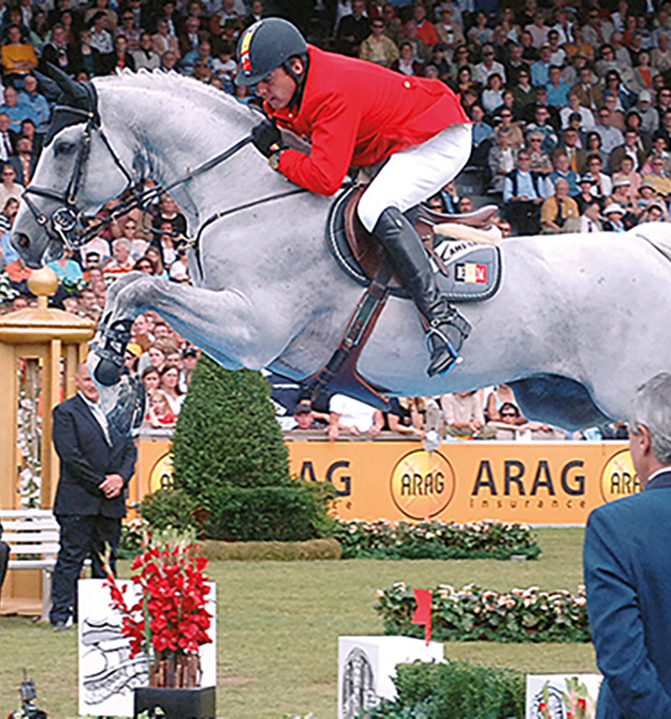 Performances

4th Olympic Games Athens 2004 (Ludo Philippaerts)
4th European Championships Donauschingen 2003
Belgian National Champion 2000
9th in the WBFSH Jumping Horse Rankings, 2001
3rd NationsCup Aachen 2001
WINNER, CSI5* Estoril & CSI4* Monte-Carlo
9th WorldCup Final Las Vegas
Offspring / Produits
MULLAGHBANE, 1m60
BUFERO VAN HET PANISHOF, 1m60 & Qualified Olympic Games
INGLISTON WOOSTER, 1m60
DIAMOND, 1m60
PATER NOSTER, 1m60
CANDLE LIGHT VAN DE WARANDE, 1m60
BAJA VAN HET EPELAAR, CIC3*
TALEA L'AMAURIAL, CIC3*
PARODIE, CCI3*
VALISCA DU BOIS PINCHET, 1m55
RIVIERA SITTE, 1m50

 Parco is undeniably one of the greatest, he has left a permanent mark both in sport and breeding. His sire Darco is an ambassador for the BWP studbook and has been #1 WBFSH showjumping sire worldwide for several years. Parco's dam Ilona had two other foals, one of them is an approved stallion Maestro Van De Heffinck and the other is the 5* sport horse Qui Voila. His damsire Attack Z is from the famous Almé motherline. Attack Z went to the Olympics like Darco and Parco himself.
Parco produces amateur and professional jumpers with excellent temperament. He will add composure, courage and this powerful scope which characterized his sport career. Parco passes on his talent and quality and stays a popular and fashionable stallion.
Parco still has visitors to the stud in awe of him. He is the kindest stallion we have ever had, he loves all forms of attention, especially from the kids. Parco enjoys spending his whole day out in the field.

 Parco ist ohne Frage einer der ganz Großen und hinterlässt sowohl in der Zucht als auch im Sport eine unauslöschliche Spur. Vater Darco ist der berühmteste Botschafter des BWP Stutbuchs und war mehrere Jahre der beste Springvererber weltweit. Seine Mutter Ilona hatte noch zwei weitere Fohlen, davon ein gekörter Hengst und das Fünf-Sterne-Sportpferd Qui Voila. Parcos Muttervater ist Almés wohl bekanntester Sohn: Attack Z, der, wie Darco und auch Parco selbst, erfolgreich bei den Olympischen Spielen teilnahm. Parco macht ausgeglichene Sportler die von Amateur- und Berufsreitern gleichermaßen hochgeschätzt sind. Er vererbt Mut, Gelassenheit und das außergewöhnliche Springvermögen welches seine Sportkarriere auszeichnet. Parco bringt Qualität und Talent mit in jede Kreuzung und bleibt ein gefragter und zeitloser Hengst.
Parco
BWP, 1992, 168 cm
Approved for: SF, BWP, Z,KWPN, SbS, AES, ISH
breeding fee : €900 + VAT and shipping, live foal guarantee included.
Owner: The Stallion Company.
Darco
Lugano van la Roche
Lugano I
Alderflut
Ocoucha
Codex
Latoucha
Lliona van het Carelshof
Attack Z
Alme
Undine
Eleonore
Donnersberg
Fara