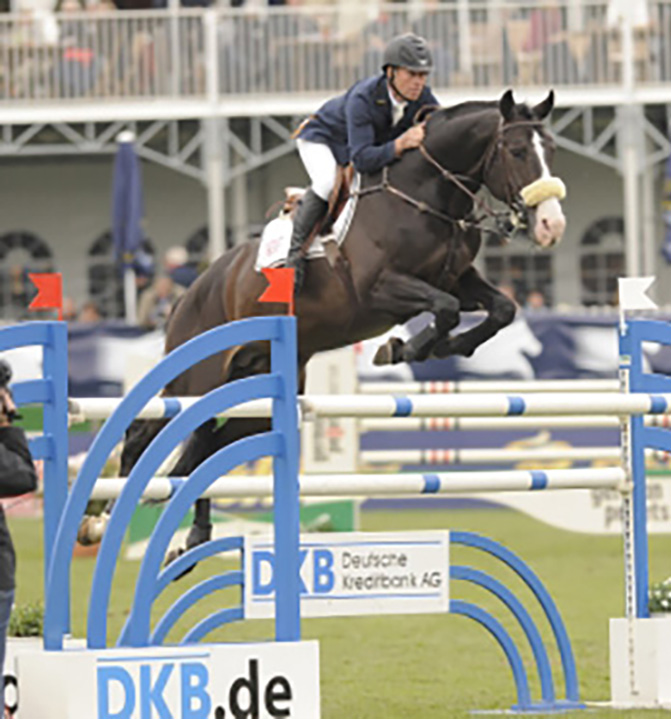 World number 1  89% of all offspring competing at 1.45m or above
World number 1  72.2% of all offspring competing at 1.50m or above
World number 1  63.9% of all offspring competing at 1.55m or above
World number 1  55.6% of all offspring competing at 1.60m or above
Quintero has a better strike rate than Chacco Blue, Cornet Obolensky, Comme Il Faut, and even Kannan. He is the stallion which brings guarantees, if you want to breed successful jumpers.
Performances
Stallion testing: Total Index 144 points (best jumping stallion)
WINNER CSI5* Paris Gucci Challenge (x3), Zurich & Geneva (Rolf-Goran Bengtsson)
WINNER CSI5* Nations Cup Final Barcelona
6th World Cup Final Goteborg 2013
WBFSH Jumping Horses: 69 ranking (2011), 77 ranking (2009 & 2010)
2nd CSI5* Paris Le Saut Hermes & CSI4* Braunschweig
3rd CSI5* Stuttgart, Bordeaux, Goteborg, s'Hertogenbosch & Geneva
Offspring / Produits
#32 WBFSH Jumping sires 2019
QUE GUAPO, TOP PRICE 2007 Holsteiner Stallion Auctions 250 000€
BREITLING LS, 1m60 & Winner CSI5* Hickstead
1m60: QUINTANA ROO, QUIROSA, QUIBELL 5 (Henrik v. Eckermann), VALUTA S, MARACA LS, QUINTO, QUIN AIR, QUIBEL S, QUINTO, QUINTA 74, QUIKSTEP, QUANTUS, QUINTOR
ABSOLUT ALLEGRO, CIC3*
Quintero is the first victorious son of Top 100 sire Quantum, himself from the French legends Quidam and Cor de la Bryere. His mother Ibara is sired by Chamonix, a well-used stallion in the USA. In the third generation of the mareline we find the matchless Calando I, reputed for his competitive spirit which he proved more than once. He sired Cagliostro, Coolman V, Careful and Lamalushi.
Quintero became a great sire over the last years for sport and breeding horses, this year ranking in the world WBFSH top 100 at #64. His offspring are stunning due to the strong topline and outstanding paces. He embodies a new generation of Holsteiners, much more blood-typed. Riders comment that Quintero's youngsters are energetic yet very rideable without losing their super temperament.
Quintero aka Kiki is a very friendly stallion, he loves his one-on-one attention and has to be persuaded to come in from the field at the end of the day.
Quintero Ask (La Silla)
Holsteiner, 1998, 171 cm
Approved for: SF, Holst, Z, AES, Old, ISH.
Conditions:
Option 1 - live foal guarantee, fresh or chilled semen unlimited cycles, plus vat and transport, 1000€ (approx £840).
Option 2 - Frozen semen, 4 straws for 1000€. You can do what you like with them, free for ICSI, ET etc. unlimited breeding certificates.
Stationed at: The Stallion Company France, La Jouanie, 12800 Castelmary, France
Owner: The Stallion Company
Quantum
Quidam de Revel
Jalisco B
Dirka
Ulla V
Cor de la Bryere
Ella
Ibara
Chamonix
Calleto II
Darau
S-Copacabana
Calando I
Faszination