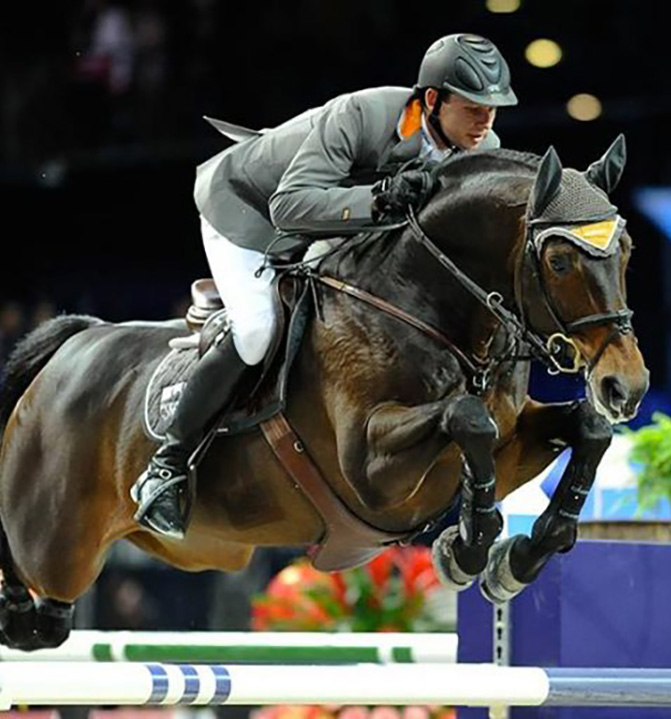 Performances
2nd CSI5* Rome 2011 (Ludger Beerbaum)
4th CSI5* Goteborg 2011 (Ludger Beerbaum)
Participated CSI5* Valencia, Cannes, Rome, Goteborg, Rome
Produits
STATUS, 1m60
SINFONIE 168, 1m60
SKYLINER, 1m55
SEAL 6, 1m50
1m45: SANKTUS 2, STAKUDO MIRALEX, SURINAM 2
SCARLETT 589, CIC2*
Satisfaction I is the son of Stakkato, who won the National Young Horse Championships twice, as a 5 and 6 years old with fairy-tale scores of up to 9.9. In the years that followed he continued his sporting success at international level with Eva Bitter. He won the German Championship twice, as well as a number of Grand Prix's and several Nations Cups. Satisfaction's dam Cecile was named Hanoverian Broodmare of the year in 2010. A worthy and sought-after award.
Satisfaction l impresses day after day with his constant performance curve and superior jumping ability. This Stakkato son already has top placings in a number of Grand Prix (incl. Hagen, Balve and Paderborn) with Eva Bitter. Following his Grand Prix victory at the German Classics in Hannover 2010, he moved from the National Stud in Celle to the Beerbaum stables at Riesenbeck. Ridden by Ludger Beerbaum and Marco Kutscher he achieved further international successes in 2011. His second place in the DKB-Riders-Tour in Paderborn and top placings in Rotterdam (NED), Estoril (POR), Rome (ITA) and Valencia (ESP) have clearly confirmed the exceptional sporting ability of this world class stallion. As an acknowledgement of his successes, Satisfaction l has been awarded the suffix FRH to his name by the Hanoverian Verband - he is now listed in the studbook as Satisfaction l FRH.
Satisfaction I offers exceptional blood lines and is a well-rounded stallion.
Satisfaction
Hannoveraner - Dark Bay, 1999, 166cm
Approuvé pour: Hannover, Programm Hannoveraner Springpferdezucht, Oldenburg, Westfalen and Rheinland as well as all the South German Stud Books and the newly formed German States Stud Books.
Conditions: 750€ + VAT and shipping, live foal guarantee.
Stakkato

Spartan

Servus

Gottilde
Pia

Pygmalion

Goldfeder
Cecilie
Calypso II

Cor de la Bryére

Tabelle
Amica
Abajo xx
Wanjax