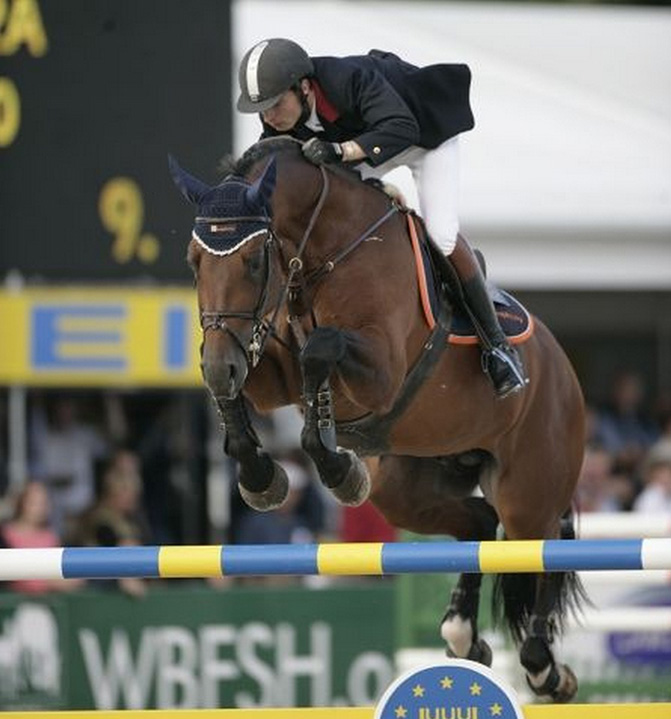 Performances

WINNER CSI5* Hickstead (Christine McCrea)
WINNER CSI3* Bourg-en-Bresse & Lons-le-Saunier
WINNER Puissance (Six Barres) Bourg-en-Bresse
4th CSI3* Saint-Lo & Liege
WINNER Grand Prix Wellington (USA)
4th CSI3* Lexington
Offspring / Produits
FLUGEL VAN'T PALMENHOF, 1m60
CANDY BOY, 1m60
ARC DE TRIOMPHE, 1m60 & WINNER CSI5* St. Gallen
CASPER DE MUZE, 1m60 & WINNER CSI4* Hickstead
DRAGO, 1m60
FARAO VAN'T VENNEHOF, 1m60
CORIANDER VAN'T VENNEHOF, 1m60
U MIJNHEER, 1m55
ZYPRIA, 1m55
ENZE VAN'T VENNEHOF, CIC3*
BARETTA S, 1m50
CENDY VDP, 1m50

 Triomphe does not only come from famous « De Muze » stud but is also very well bred: his sire Chin Chin and damsire Galoubet, sire of Baloubet du Rouet, both went to the Olympics. The motherline has produced several top-level horses like Newton de Kreisker, Mylord Carthago and Bamako de Muze. His dam Caprice d'Ifrane produced seven international offspring at 1m40 level and above (Millenium Blue, Quaprice Forever etc.). This is without question one of the best motherlines worldwide.
Triomphe is a blood typed stallion who will refine and modernize most mares. He produces energetic and athletic offspring with a lot of suppleness. We also recommend Triomphe for eventing breeders with TB or blood type mares looking for jump.
Triomphe is another one of our Gentleman stallions, he is a big fan of the field, sometimes giving us the runaround when it's time to come in. Triomphe is an extremely gentle stallion who will stand for hours on end being groomed.
Triomphe will stand in Whitethorn Stud, four mile house, Co Roscommon. Keith Murray, Tel : +353 867 840 131.

 Triomphe kommt aus sehr gutem Hause: Vater Chin Chin und Muttervater Galoubet A, der Baloubet du Rouet brachte, qualifizierten sich für die Olympiade. Aus der Mutterlinie wurden zahlreiche Toplevel- Pferde geboren wie Mylord Carthago, Newton de Kreisker und Bamako de Muze. Caprice d'Ifrane, Triomphes Mutter, hat insgesamt sieben Nachkommen die alle über 1m40 springen (u. A. Millenium Blue, Quaprice Forever). Das ist ohne Frage einer der besten Stutenstämme weltweit. Triomphe ist ein im Blut stehender Veredler, der seinem Nachwuchs einen moderneren Körperbau vererbt. Er macht elegante und athletische Sportler die sich durch Wendigkeit und viel Energie auszeichnen.
Triomphe De Muze
BWP, 1996, 169 cm
Approved for: KWPN, BWP, SF,
Z, AES, ISH
Breeding fee : 500€ per dose (8 straws) +VAT & Shipping (sold without terms)
Chin Chin
Constant
Cor de la Bryere
Ella
Larese
Farnese
Cesta
Caprice d'lfrane
Galoubet A
Alme Z
Viti
Ifrane
Chateau du Diable
Oita