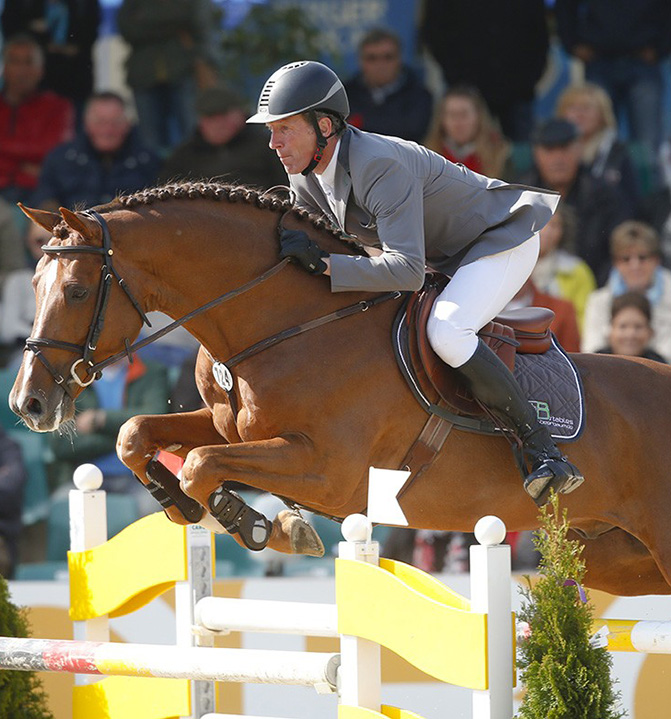 Performances
4th CSI5* St Gallen 2016 (Ludger Beerbaum)
5th CSI5* Shanghai (Ludger Beerbaum)
WINNER CSI5* Zurich 2015 (Ludger Beerbaum)
2nd CSI5* Paris 2014 (Ludger Beerbaum)
8th CSI5* Madrid 2014 (Ludger Beerbaum)

 Zinedine is the result of a cross between Guidam and Unadonja. Guidam is a pure Selle Francais, one of the top ten worldwide stallions. Himself being the son of the great Quidam de Revel who still ranks in the world top 10 showjumping stallions in 2016. Unadonja was an excellent speed horse in the USA. We no longer need to introduce her father; Heartbreaker or her grandfather Burgraaf, both monuments of Northern Europe. Zinedine has proved himself to be an extremely talented horse, at the age of 8 he entered the World Championships circuit. In 2013 he successfully lead a breeding career as well as a sports career. He finished 4th at the Chantilly Grand Prix, and 5th in Neumunster. In 2014 he finished second at both the London and Paris Grand Prix, as well as finishing fifth in Shanghai. He seems to be collecting top places at the best worldwide competitions. His physique, his elegance and his amazing ease when it comes to jumping as well as his genetic strength make Zinedine one of the best modern stallions on the planet. He will suit mares with a more substantial build who may lack energy, Zinedine will bring that extra bit of blood.
Zinedine
KWPN - chestnut - 2004, 168 cm
Approved for: Westfalen, Rheinland, OS, Hannover, alle süddeutschen Verbände, Italy.
Conditions: 2000€ + VAT and shipping, live foal guarantee included.
Guidam

Quidam de Revel

Jalisco B

Dirka
Fougere

Venutard

Bagatelle
Unadonja

Heartbreaker

Nimmerdor

Bacarole
Prima Donja

Burggraaf

Fadonja v. Akteur